The Telstar* went hunting for rockfish today. Nice day to be on the ocean. Started off foggy and the farther south I went the sunnier it got. I bounced several rock piles on the way to the town of Mendocino. Stopped just short and fished between Mendocino and Pt. Cabrillo lighthouse in about 50 ft of water. Nice steady bite of rockfish. Ended up with a few lings but mostly throwbacks. Some nice blacks and some exceptionally large china cods!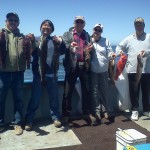 And then we had a variety of other rockfish. Our bags ended up with 8 fish around and 3 lingcod. Suzie Copeland got the big fish pot with her limit of lings. Good job Suzie!
    Capt Randy
Picture left to right; Bob Barthel/Lake county, Suzie Copeland/local, Lee and Diane Alexander/Sacramento, and Steve Gannon from Stockton Ca.