5/13/2012– Telstar* is back up and fishing!!!
The Telstar* is now one of the greenest running boats out of Fort Bragg. With a new Cummins in her, she's running more efficient than ever. I gained a bit more speed but I'm still working out some of the fine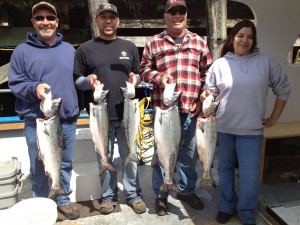 tuning. Right now I need to get back out on the water and catch some fish! Today was my first day back on the water so I was not sure what to expect as far as the crabbing. Well, it was congested with pots up where I usually crab so it was so, so. Today we ended up with 7 salmon and 39 crabs for 13 anglers. Not bad for the first day back. Biggest salmon was 20.1 pounds caught by Ed Bochmam from Ukiah. Nice to be back!
    Capt Randy