July 20 — I thought I'd take advantage of what might be the last flat day for awhile and go south looking for some big hungry rockfish and lingcod. We went down below Pt. Cabrillo Lighthouse and fished most of the trip between 60 and 110 feet of water. The drift was just right. Not too much, but just enough to cover some ground. We averaged 3/4 limits of nice rockfish and 22 lings for 20 anglers. We were fishing with light tackle ugly styx with a 2-3 oz torpedo jig with a teaser hook above. Put just a dab of squid on one of the hooks and you have what the fish wanted this day.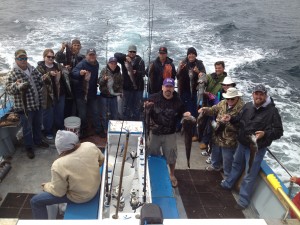 Chuck Bolls from Susanville, Ca. scored the biggest fish with a 13 lb Lingcod. Click on the picture and behind it you will Mark Bertolini out of Santa Rosa and his friend showing of a sample of their catch. Nice job everyone! Fish-On!!
    Capt Randy
P.M. Trip; We fished up north for salmon this afternoon. We had lots of action, but didn't land very many. We ended up with 5 salmon for 17 anglers. Big fish on this trip was landed by Robert Rowe out of Phoenix, Az. weighing in at 14 lbs!  Fish-On!