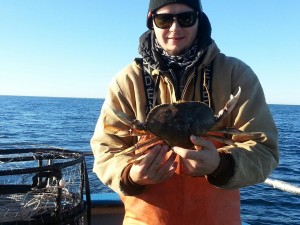 Happy Thanksgiving everybody. I've got a little story to tell you.
I've been crabbing here in Fort Bragg for about 12 years or so. I've worked hard to produce for my customers. When I say "I", I mean myself, my crew and all the anglers who pitched in. We've shared lots of great times and caught lots of crabs. Over the years, for the Telstar* to come back to the dock with less than 5 crabs per person is a rareity. I would say that on my worst year I had less than half limits no more than a handful of times. I've done a lot of learning over the many trips. I've always said that one of the things I like about crabbing is that the more effort you put in it, the more you produce. Well, I am here to tell you, that I am dealing with a situation that has me stummped. In the picture above is my son showing off a nice big crab. It measured out at 8 1/4 inches across. We have been getting several crabs of this size on most every trip this year. This picture was taken on Saturday the 23rd of November. That was the last day we had limits. Up to that point I had an average of over 8 crabs per person. The next 3 days took a turn that I never expected. The crab went off the bite. I mean, OFF the bite. I went from limits of crabs to 2 1/2 to 2 to 1 crab per person. And that 1 crab per person was worked hard for. I put my gopro camera down and did a survey of the bottom from 25 ft to 70 ft. The view was very good. With the exception that I didn't see many crabs. I don't know if they were bunkered down in the sand or if they just went somewhere else. Like I say, I am stummped. So I began moving my gear around. I put some as far out as 260 ft of water. So far, I haven't had enough time to see the results of any of my efforts. But rest assured, we will leave no stone unturned untill we crack the mystery of this delimena. So unitl then, sit back, have another bite of Turkey, and enjoy one of the many great things that life has to offer. Great food, great friends, and great family!! Fish-On!
Happy Thanksgiving from all of us here at Telstar* Charters to all of you!
Capt Randy & family