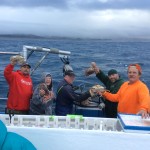 11/22/14–I have fished 3 times since my last report. We scored limits all but one trip in which we ended up with 9 crabs per person. Not bad! Today we went up north again. About 7 miles in 110 feet of water. Again the size of these crabs are some of the best I've seen here. /we scored limits of crabs for 11 anglers.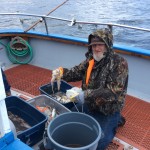 We ran 25 pots to achieve that.Our best pot today had 13 nice keepers in it. Not bad, we were back at the dock at 10:45!      Crabs-On!
Capt Randy
Picture (left); Everybody is pitching in and having a great time.
Picture(right) Even Bill's pitching in. Thanks for the help Bill!