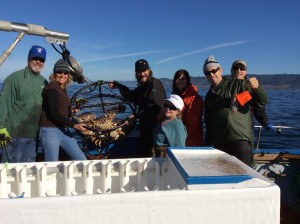 November 8th, 2014 Crab report–We left the dock shortly after 7:00 a.m. on our way to the crab grounds. The winds were calm, the seas were flat, the sun shining and the temperature is 52 degrees. 40 minutes later we arrived at the crab grounds. First thing we do is drop any pots we have on the deck.  I felt the pots we had in the water prior are going to produce so I thought I'd do a little scouting. I put 5 pots in 40 ft of water to see if there are any crabs there. Not many, we only got 4 crabs out of the 5 pots. However, the pots that we had soaking did indeed produce. In this pictue I think we had 15 or more keepers. Our best pot was 24!! Nice big crab too. We ended up pulling 28 pots for 180 crabs. Nice day on the water!!
Fish-On!   Capt Randy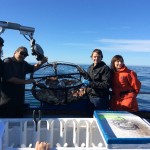 Pic- some great customers having a great time!